Public outcry after frail mother seen handcuffed to bed in hospital in pictures circulating on social media.
Egypt's prosecutor-general has ordered the release of a woman who was detained in January while eight months pregnant, and who was pictured handcuffed to a hospital bed after giving birth this week.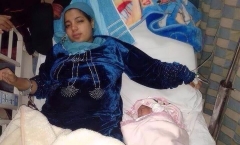 Dahab Hamdy, 18, is charged with belonging to a terrorist group and joining an unauthorised protest. According to her husband, Ashraf Sayed, she was on her way to the doctor when she passed near a protest by supporters of ousted president Mohamed Morsi in Shubra in Cairo, and was arrested.
Her order of detention was renewed three times, each for a period of fifteen days.
Hamdy's case angered many after she gave birth on Thursday via a caesarian section, and a picture of her handcuffed to bed with her newly-born baby next to her went viral on social networks.
In a phone interview on Friday, her husband Sayed told anchor Mahmoud Saad on Nahar TV channel that his wife remained handcuffed while she was inside Al-Zatoon hospital in Cairo, and was unable to breastfeed her child.
However, an official from the interior ministry told Saad that Hamdy is receiving "full medical care" adding that the photo of her handcuffed "might have been taken while she was being transported to the hospital."
The National Council for Human Rights has requested an investigation into the photo of Dahab handcuffed, said lawyer Ragia Omran via Twitter on Friday.
Sixteen human rights organisations released a statement on Wednesday demanding swift investigations into what they described as increasing and shocking allegations of torture and sexual assaults against those currently in detention.
While campaigns continue against arbitrary arrests and illtreatment of detainees, the interior ministry released a statement denying allegations.
On Wednesday, dozens of detainees were released.
Source:
http://english.ahram.org.eg/News/94307.aspx