The Ministry of Communications and Information Technology (MCIT) stated in its latest published report that only two out of 100 individuals in Egypt have access to broadband internet penetration, compared to Israel's 25 and the United Arab Emirates' 10.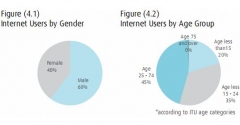 The report titled "The Future of Internet Economy in Egypt" explained that Egypt is among the countries that provide the cheapest fixed broadband internet access, with a monthly charge of $8.20.
"Cairo enjoys the largest number of ADSL [asymmetric digital subscriber line] usage among other regions in Egypt," the report said, adding: "Around 56% of ADSL subscribers in Egypt live in Cairo, while 19% of ADSL subscribers live in Delta region."
The published report stated that nine out of 100 persons in Egypt use mobile internet, adding that subscriptions to mobile internet have been increasing steadily since 2009, with an average annual growth of around 54%.
Mobile internet subscribers rose from 1.3 million in 2009 to 3.07 million in 2011.
The ministerial report revealed that the contribution of the Information Communication Technology (ICT) sector in relation to the GDP reached 4.6% during the 2011/2012 fiscal year (FY), compared to 4.2% in the FY2009/2010. The number of ICT companies almost doubled between 2007 and 2011, accelerating from 2,348 to 4,428 during that period, the report added.
"The ICT sector has generated revenues of EGP 65bn in FY 2011/2012, compared to EGP 61bn in FY 2009/2010," the report said, adding that "ICT revenues grew by 6.5% in 2013."
Internet user profiles
According to the MCIT, 60% of internet users are males and 40% are female. The report illustrated that 20% of users are less than 15 years old, while 35% range between 15 and 24 years old. Egyptians with ages that range between 25 and 74 registered 45% of internet users.
Around 30% of internet users are upper secondary school and post secondary non-tertiary students. Upper secondary education was defined by the ministry as general secondary and technical secondary education, in addition to an institutional educational level. Twenty-nine percent of users are lower secondary students, preparatory students and recipients of vocational educations. Primary school students comprise around 24% of users and 17% received tertiary education.
The report also classified internet users according to their employment status. According to the ministry, 56% are not part of the labour force, 30.6% are wage workers, 7.4% are freelancers and 4.6% are unemployed.
Around 33% of currently employed users are professionals, working in occupations whose main tasks require a high level of professional knowledge and experience in the fields of humanities and physical, life and social sciences. Technicians and associate professionals register around 15.5% of users, while legislators, senior officials and managers comprise 13.34%.
Those who work in the armed forces registered the lowest percentage of internet usage, comprising only 0.11%.
Source:
http://www.dailynewsegypt.com/2014/01/2 ... rnet-mcit/