Recent deadly accidents are caused by state negligence; liberal party urges for new govt.
In light of many recent grave accidents, the liberal Free Egyptians Party says a salvation government is necessary to combat failing state services and facilities.
The liberal Free Egyptians Party expresses its sorrow and dismay over the many grave accidents in the past few days caused by negligence in maintenance and enforcement of safety codes.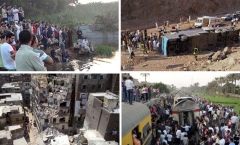 In a statement released Saturday the party urges the state to take up its responsibility in providing and monitoring transportation services and safety measures. The party also conveyed its sorrow over the lives lost in the recent accidents, stressing that they reflect wide-scale negligence and government failure.
On Friday, for instance, a ferry transporting cars and passengers sank, leaving at least eight confirmed dead and dozens still missing.
The same day, a bus turned over, leaving at least one dead and dozens injured.
On Tuesday, a train derailed leaving several injured.
On 15 July in Alexandria, a building condemned for not meeting construction codes collapsed, killing at least 10. No government entity had been able to enforce the order to avoid the accident.
These deadly accidents opened the door for the party to insist on the transparent formation of a national salvation government, which many liberal groups have requested on and off in the year and a half since Egypt's 2011 revolution erupted.
Egypt's newly-elected President Mohamed Morsi has yet to appoint a prime minister, or form the promised new coalition government. The Muslim Brotherhood's candidate replied to criticism for the delay by saying he doesn't want to rush, but some forces are making cases for the urgent need for a government.
The Free Egyptians Party was represented in the now dissolved parliament as part of the Egyptians Bloc, an electoral coalition which also includes the Egyptian Social Democratic Party and the Tagammu Party. The Bloc managed to garner in the latest 2011 parliamentary election 35 of the 508 (10 seats are appointed, however) Lower House seats against a strong Islamic competition, which took 70 per cent of the seats.
Source: http://english.ahram.org.eg/News/48318.
aspx