Famous Travel Guide.
Here is a big and positive post on tourism – sort of.
I assume that those who support Egyptian tourism know one thing. What is the tourist guide to an Egyptian city which is universally regarded as the greatest book of its type published in English in the world.
No takers on that one. Any guesses. Hint 1. He is generally regarded as the greatest English novelist of the 20th century although some prefer Lawrence. Hint 2. A number of his novels have been made into successful films starring top actors and directed by even better.
Answer – E M Forster and his Alexandria, A History and a Guide published 1922 and a collection of essays on Alexandrian themes called Pharos and Pharillon (1923).
Its revealing no one knows about it but bookstores are full of lumpenproleteriat garbage.
For many at Forster's time interest in the city was framed by a vivid memory of the achievements of Alexander the Great, whose life was part of a classical education and it was only later that harsher views emerged of him. Here is the famous mosaic of Alexander and Darius in the Naples Museum – its more powerful in the flesh and is a superb image of drama as Darius retreats on the right at Gaugamela.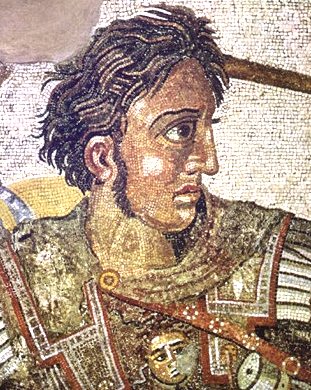 The complete but damaged mosaic is in Naples because for 2,000 years they knew what to protect, even if it involved the damnation of displaying a human image which is opposed by god's religion - damnation to them.
It's a superb object of the highest art and captures the dynamism of battle and command.
More than 12 feet from left to right and photographs poorly. Odd that of this and many other superb memorials to Alexander none are in Alexandria.
Forster's generation and many that preceded it felt more connected to the classical world than we do, particularly amongst the upper classes and that connection must have affected their interest in Alexandria at that time. Then and now there are scant memories of the Greeks in Alexandria and few buildings to mark 400 years of Greek rule. What Forster made of this gap or silence is hard to understand but we know that he understood the importance of the thick heritage, a mix of Greek, Roman, Byzantine, Fatimid and other Arab factions and the mixture of pagan, Christian and Muslim. Both Western and Eastern in one. The diversity, beauty, tolerance, wealth and sophistication of the city appealed to him – now all gone and now suppressed
How could a country and those who support its tourism not know of such a book written by an important person and lauded the world over. His was a positive view of Alex, superbly researched, written in the best prose in the world and with insight and imagination lacking in the robots who write the pulp that guides most travellers today – including one beloved on this forum who wrote some illiterate garbage on Luxor.
Maybe if he had been an Egyptian General or a journalist from al Ahram it would have been different for Forster – but its not. Maybe the way to go is Lets Go that focuses on hotels, restaurants, bars, the worst souvenir shops in the world followed by the Pyramids and then lots of beach. As usual Egypt caters for the cheap seats and ignores that it could just as easily focus on the royal box. The up market Frommers has ignored Egypt for 10 years, the further up market Blue Guide for 35 years and the once great Lonely Planet for over 15 years. The market is clear – if it's a trash, idiot tour guide, then they do Egypt.
The idea of a revised and updated version occurs to no-one.
As it turns out Forster was a vile, disgusting and obscene person – according to Egypt. He didn't believe in God which would, today, bring a criminal prosecution and no job, he was a relativist who believed that meaning was to be found in many places – this would get you tossed out of Egypt in 2018 – or worse, and he was a dirty filthy pervert (in Egyptian terms) which would get him 5-10 years jail and some jail even for just talking about it as the flag wavers have found out.
Of course Egypt is the center of civilization not a brutal, ignorant military dictatorship led by someone who could not pass a basic US War College exam because he was so dumb.
Forster's Alex book has been in continuous publication since 1922 and unlike Hawass published by the most famous publishing houses in the world. Unlike Hawass it didn't make lots of cash that ended up in a tax free Cyprus controlled nominee company that also 'serves' Russian gangsters.
There are more Phd''s and journal articles on the book and author than there are Egyptian Major Generals - squared. None are published in Egypt or written by Egyptians. Hardly any first rate western books get translated into Arabic because most Arabic readers, the small number they are, are interested in the lowest rent imaginable – and then add some. The fatuous Durrell continues to get attention in the west for his Alexandrian Quartet, but not a second of attention in Egypt.
I'm prepared to bet there is no half-good tourist guide on Egypt in Arabic – if there is please tell.
Durrell said this of the Forster book:
"And the book despite its strictly utilitarian form and severely practical arrangement of matter is the work of a master essayist." I think that's a slight put down from a 2nd rate competitor.
Forster had a nasty view of travel guides – one I share, both printed and in the flesh.
He said 'I hope we shall soon emancipate you from Baedeker. He does but touch the surface of things'.
Forster became friendly in Alex with Cavafy the poet, not really because C was pretty grumpy, but he recognized his talent and used his position back at Cambridge and at the peak of literature to get credit and publication for him. At least he spotted and promoted Egyptian talent that was shunned in Egypt – I wonder if there is a single tourist out of tens of millions who has done similar or a single Egyptian who has done the same for a fellow countryperson. For example it was the Cairo based Catholic Dominican fathers who translated Mahfouz into French thus launching his career whilst the 7 score government owned publishers and 4,000 professors did nothing – but after the Nobel they devoured credit for things they had not done for him – very Egyptian.
Forster arrived in November 1915 as a volunteer with Red Cross because he was a contentious objector and worked for 3 years at that. He would have dealt with the wounded from Gallipoli and, maybe, those from Palestine and Syria. The bloody images would have been coarse but as one of the most important writers in the world he did his hands-on duty. In Egypt since Nasser all the boys from good families do no military work and no son of the upper class has died in '48, '56, '67, '73 or Iraq 1 and 2. Almost unbelievable except if you have the lowest estimate of the Egyptian Army and ruling class and their avoidance of work.
The Red Cross did great work in WW1 but there is no evidence that the Red Crescent did a jot during this period even though there were tens of thousands Ottoman casualties and of course Egypt was neutral in the war even though the Caliph's armies got to the Canal - just as it was also neutral in WW2 whilst bombed and invaded by Italy and Germany. The Red Crescent is little better now and more nation-state based than an international body.
He stayed at the Majestic Hotel near the water. It no longer exists. The building exists but is loosing its cupolas – maybe they have good resale value or maybe the stripped building will be easier to bulldoze.
Here is an old poster of it and it looks over that small park/square, not a tip, that faces the corniche.
Here is a photograph of it – Alex, clean, ordered and with trees – amazing.
Here are the then called adjoining French Gardens – so many jokes, some involving vegetable plantings but others more risqué – obviously a major central point – again ordered and planned. Note, and its more frequent in other photos from this period, the large canvas awnings to protect from the sun and keep the temperature down, Cheap, simple and effective – but not for modern Egypt.
Other cities and even places like Palermo and Naples that are out of control and poor, have fought the corrupt, the Mafia, the Camorra and developers and preserved most of the best of their 19th century buildings and treed avenues. Tunisia has done an outstanding job and their central older area is elegant – and clean. Egypt has not.
Most of these buildings and those in Cairo were designed by talented non-Egyptian architects and most were made of stone. Therefore the hideous corrupt westerners that Nasser tossed out built well, built with their profits for the future, were not just quickly out with those profits and were therefore not wild west opportunists that Nasser lied about. Since Nasser the new buildings are masculine brutalism and many are shoddy built with poor placement and design around the base and adjoining areas and of poor materials. The Bib Alex, which I am not enraptured by, was designed by a German, US, Nordic consortium. The Luxor Museum and the Airport are amongst the ugliest buildings in the world.
Here was the Greek School in Chatby one of very many of the same quality which Forster would have seen and scores of similar are now destroyed or derelict.
A windy and pretentious survey of the book.
https://quod.lib.umich.edu/cgi/t/text/t ... =text;xc=1
A review of the book by one of the new minor giants of English literature – Hollinghurst.
https://www.the-tls.co.uk/articles/publ ... linghurst/
It has never been out of print unlike much by Hawass and other Egyptian windbags.
He wasn't just a romantic and included maps, even maps of museums, something often missing in books today. Here is the map of the Greco Roman Museum now closed for 'renovations' for 7-12 years - a renovation that has taken longer than putting a man on the moon. What was wrong with the museum that required this effort is not clear and has never been disclosed – not even in a 1 para press release. Opinions prior to the closing were that it was OK or better.
A 1st edition of the book is a shade under $US4,000. The AUC appears to sell modern editions of it or sell someone else's printing of it but its hard to know because their link is dead – in all senses of that phrase. Because Egypt trashes all international copyright law and treaties they publish what they like – usually not very good judged by university standards, but in Egypt there is no competition so their product looks first rate – which it is absolutely not and the AUC translations of Mahfouz are talked about all over the world as worse than bad. As Forster would laugh – they have one great writer and they stuff up the translation.
In general terms he finds the city attractive, organized, people live well together, the educated people are highly sophisticated etc. None of this exists in the modern hell hole of today.
His major focus is to use his genius to write a story which links the elements of the past with the present. Unlike cretinious historians, but like the best, he needs to understand the present in terms of what went before. It requires high intelligence which its rare.
That he is ignored or forgotten makes sense only if you have an unbelievably bad view about the Supreme Antiques and the 'educated' Egyptian middle class generally. I have such a view – but only on an optimistic and positive day.
Its almost as if Cavafy, Durrell, Forster, the brilliant Benakis and a female Nobel Prize winner in Chemistry (Dorothy Crowfoot Hodgkin) who all lived in or wrote about Alexandria now never exist today. In Egypt they are now ignored or worse. For Nasser's Egypt and all that have followed, these people were unhealthy, foreign and oppressive. It's a strange and sick view of the world but a good litmus test of the moral and intellectual qualities of Egyptians including their so-called intelligentsia.
Of the books on Egypt written by Westerners I can find not one that gets any positive support in Egypt. The sashaying recollections of 19th century aristocrats are liked by many on this forum. I make only two points. First the grammar, syntax and everything else about the writing is awful. Second they are self-obsessed and contain little reliable information about other than Her the Right Hon and select local acquaintances. ThE people we like reveals much about who we are.
The great Jan Morris who wrote in a similar style – ignored by the illiterate culture we live in today, and said this:
There are few major works by important writers that describe cities in half literature/half travel guide. Robert Hughes's Rome is better than most although its priority is art, Ackroyd's London is well regarded, New York has much but not good although the Burns TV doco is a masterpiece, Paris has little of the first rank except Orwell. I'm not sure about Berlin and the others. Its odd that this genre is so little explored. Golia's Cairo is charming but brief, a bit too political and not much history.
It is I think the only travel guide written by one of the greatest writers in the world but if someone can think of another please post.
I find Michael Haag's Alexandria books more an industry than anything else. In addition he loves the curious and stylish detail a bit too much and is less effective at the bigger picture. Its still a profitable industry and many 'love' him – more's the pity.
One of the commercial strengths of these books and Forster is that little needs to be changed like where to buy rolls of toilet paper or whose pastry is best (easy answer they are all awful) or where the British community meet in their tavern (stay away). Therefore with minor historical and archaeological updates they are still current. Alas a buying public is addicted to endless amounts of 'useful' information which guarantees them a trip to 'end all trips' whereas the better books summarize all the most important information little of which changes.
Its odd that Egypt has the usual locust plague of awful practical travel guides – that aren't very practical, shocking maps (Forster's were OK) and badly written. At the other end are the dry as dust specialist archaeology books whilst in the middle a menagerie of books – some written by the half mad and a lot more written by the vain, unresolved and unskilled – as in the case of one example on this forum.