Egypt's prosecution detained four Luxor officers late Thursday pending a four-day investigation into torture resulting in the death of a man in custody.
The detainment decision came after medical examiners issued a report on Thursday showing that the victim suffered fractures in the neck and back, Ahram Arabic website reported.
Talaat Shabeeb, 47, was detained at El-Awameya police station last week over drug possession. His family was later informed that he had died and his body was brought to Luxor International Hospital.
Shabeeb's family claims that Shabeeb was in fact arrested over a personal dispute with a policeman, and not for drug possession as initially claimed.
A video showing his bruised corpse was circulated on social media.
Hundreds of demonstrators took to the streets of Luxor last week to protest Shabeeb's death and demand that the head of the police station be fired.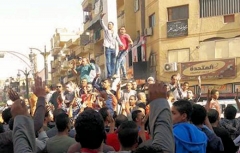 Shabeeb's case is the third in Egypt involving allegations of police abuse over the past week, with the latest involving an Ismailiya policeman who is accused of torturing a man to death while in police custody.
The interior ministry says these are "isolated incidents," refuting allegations that torture in police stations is a systemic approach.
Human rights organisations have repeatedly condemned torture by Egyptian police.
Torture is forbidden by Egypt's 2014 constitution, with Article 52 stating that "torture in all its forms is a crime without a statute of limitations."
Source:
http://english.ahram.org.eg/News/172542.aspx