31 pct drop in traffic accidents during 2011 probably due to months of military curfews following January 25 Revolution, says official statistics body.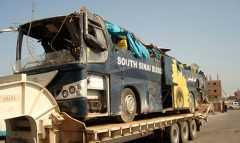 There were 16,830 traffic accidents in Egypt during 2011, a 31 per cent drop on the year before, CAPMAS, the official statistics body, said in a survey published on Sunday.
The fall could be due to military curfews imposed in major cities for several months after the January 25 Revolution, CAPMAS said.
Traffic accidents caused 7,115 fatalities in 2011 compared with 7,040 in 2010. The number of injured, however, was 27,479 in 2011 compared with 36,028 the year before.
In 2011 there were 2.1 injuries or deaths per accident compared with 1.8 in 2010.
This translates into 111.7 deaths per 100,000 vehicles in Egypt, or 19.5 deaths per day.
The Delta governorate of Sharqiya saw the largest number of accidents in 2011 with 1,297. While the Upper Egypt governorate of Luxor saw the lowest, with 87.
The most dangerous road during 2011 was the Helwan-Korimat Road, which saw an average of 4.2 deaths per accident. The Katameya-Ain Sokhna Road was the most dangerous in 2010 with 4 deaths per accident.
Source: http://english.ahram.org.eg/News/52385.aspx