I will return Saudi Arabia to moderate Islam, says crown prince.
Mohammed bin Salman tells the Guardian that ultra-conservative state has been 'not normal' for past 30 years.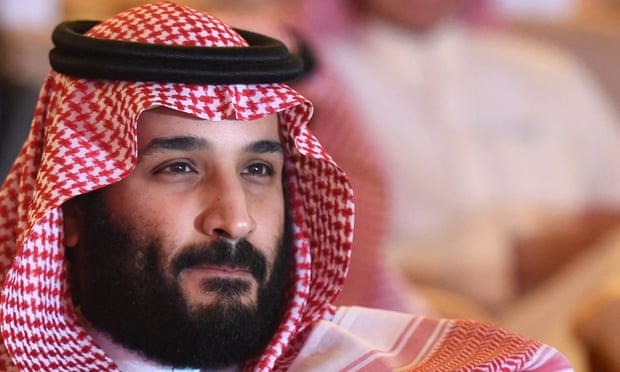 Mohammed bin Salman
The Saudi crown prince, Mohammed bin Salman, told the Guardian the rigid doctrines of the past three decades were the result of not knowing how to deal with the Iranian revolution.
Saudi Arabia's crown prince, Mohammed bin Salman, has vowed to return the country to "moderate Islam" and asked for global support to transform the hardline kingdom into an open society that empowers citizens and lures investors.
In an interview with the Guardian, the powerful heir to the Saudi throne said the ultra-conservative state had been "not normal" for the past 30 years, blaming rigid doctrines that have governed society in a reaction to the Iranian revolution, which successive leaders "didn't know how to deal with".
Central to the reforms has been the breaking of an alliance between hardline clerics who have long defined the national character and the House of Saud, which has run affairs of state. The changes have tackled head-on societal taboos such as the recently rescinded ban on women driving, as well as scaling back guardianship laws that restrict women's roles and establishing an Islamic centre tasked with certifying the sayings of the prophet Muhammed.
The scale and scope of the reforms has been unprecedented in the country's modern history and concerns remain that a deeply conservative base will oppose what is effectively a cultural revolution – and that the kingdom lacks the capacity to follow through on its economic ambitions.
Prince Mohammed had repeatedly insisted that without establishing a new social contract between citizen and state, economic rehabilitation would fail. "This is about giving kids a social life," said a senior Saudi royal figure. "Entertainment needs to be an option for them. They are bored and resentful. A woman needs to be able to drive herself to work. Without that we are all doomed. Everyone knows that – except the people in small towns. But they will learn.
Edited....full article below
https://www.theguardian.com/world/2017/ ... own-prince
In parallel with social reform, the crown prince is behind enormous economic & investment projects designed to move the state away from its reliance on petrodollars.
The country's enormous sovereign wealth fund is intended to be a key backer of the new economic zone on the west coast. It currently has $230bn under management. The sale of 5% of the world's largest company, Aramco, is expected to raise several hundred billion dollars more. The Red Sea development scheme and other ambitious projects are designed to give opportunities to the kingdom's well-educated, but under-employed youth.
One can only wish the crown prince every success in his vision....and trust that his bodyguard are more efficient (and loyal!) than that of some of his ancestors whose conflicts with other members of the royal family ended fatally.