Campaign launched to collect LE1 billion to defend, promote Prophet Mohamed.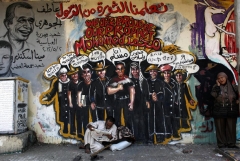 Mohamed Assem Abdel Maged, a leader of Jama'a al-Islamiya and the al-Ansar movement to defend the Prophet Mohamed, launched on Friday the "Knock on Doors" campaign.
The goal of the campaign is to collect LE1 billion that would be used to create a satellite channel and publishing house to disseminate information about the Prophet Mohamed and defend him from insults. Abdel Maged said he is also considering establishing a film production company abroad as part of the campaign
"The billion pounds will also be used to support the Syrian people by sending medical convoys and food ... [and] a portion will be allocated to the Syrian families in Egypt," Abdel Maged told Al-Masry Al-Youm.
The movement has already sent a number of medical convoys to Syria, he claimed.
"The campaign was launched in a several governorates with public presentations about the Prophet Mohamed that were held within the framework of events organized by Jama'a al-Islamiya to defend the Prophet," Abdel Maged added.
"Many young people from both liberal and Islamic parties joined the movement, including members of the recently established Constitution Party," he claimed.
Source: http://www.egyptindependent.com/news/ca ... et-mohamed