In another post we were mentioning past or in some cases deceased members and how their contributions are sadly missed, I mentioned Charlie, or as most knew him, Mrs Doubtfire. Carrie and myself also said (in yet another thread) how much we enjoyed visiting Medinat Habu. Charlie and I would often post old images of the sites on here from wherever we located them and although we often argued, we often swapped images. Shortly before his passing he emailed me all of his old pictures saying that he thought I would find them interesting, which I do. I added them to my own colection and today I thought I would show a few on here. As I said they are all collected from various sources, so where it does not say so I will credit the appropriate owners and publish them under 'Creative Commons' for educational purposes.
These are some of Medinet Habu prior to restoration:
Habu Temple 1856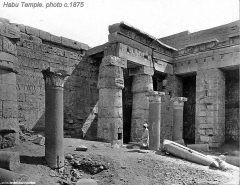 Habu Temple Hall of Columns 1856
Habu Temple posssibly 1875?
Look closely at the ruins in the distance and what looks like a flood plain
Habu Temple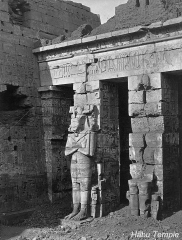 Note, some images have dates different to the the dates that Charlie had on his image file. I have left those unchanged as he may have done some reasearch that gave him different dates to those on the actual prints.