Modern Mosques.
Egypt doesn't like modernity and a lot of its architecture and thinking looks backwards to an imagined great past. It's a bit like the loopy Prince Charles who builds thatched Devon villages to rent them to rich fools or sell them for a million or two.
In both cases the loss of national and cultural power has closed the doors to change and cast the milky gaze towards the lost past that was far from pleasant particularly if you were in the bottom 80% and weren't enraptured by Brideshead Revisuted.
I won't fill the page with Arab Contractors horrors in Downtown or the unbelievably awful buildings in the New Imperial Capital (Armed Forces Property Development 51% Belize Plc c/o Lord Ashcroft) and I wont at this stage deal with A-Four's puzzling optimistic view about property in Egypt – which leaves all the key data out particularly debt, glut, demand, current middle class vacancies, horrific design and location for poorer people, the Gulfie contractors walked out and the Chinese are less than enthusiastic, unlike you I haven't heard of a single Saudi dollar in the capital city but the UAE seems to be de facto banker/briber and huge shortages in housing that the Junta ignores. At the end of the day there are two questions about the capital – will it cost $US80 billion and who will pay for this debt? I also won't ask the question about how money can be found for idiocy but nothing to prevent Downtown or Central Alex from falling down), But I will post a photo of the new Parliament House which exceeds all expectations.
A-Four is usually more cynical about local media wind so I was surprised by his recent post. Maybe he used irony and paradox that was lost on my colonial, criminal mind
The following is comparing four Here mosques. Similar points could be made about Coptic 'Architecture'. Two of the highest 'status' mosques in Cairo that were larded with taxpayer money followed by a new mosque in Melbourne designed by our greatest living architect and Pritzker winner (the architecture Nobel Prize although the P's were dirty filthy Jews – but great benefactors to the world and own 2, five star Hyatt hotels the Junta 'forgot' to burn down – Military Intelligence should get the fiery cocktails ready now) Murcutt has designed for a community that has little money but great determination. Construction was stopped twice when money ran out, Murcutt was absolutely committed and he trained local Muslim architects and engineers to help him, the media interest has been huge and positive and the whole complex is designed to be a community center available to all. Unlike Cairo it relied entirely on local initiative and good will as well as volunteer labor. A second and Sydney mosque is also featured.
The first 2 are like the President's low quality French Reproduction furniture – the original is good but the reproduction is awful/clunky/disproportionate/bombastic. The second two show radical attempts to use modern architecture to create buildings which instill pride, interiors that welcome and design that fulfills multiple and not always religious purposes whist adhering to ancient Muslim principles of austerity and simplicity. The later 2 also embrace the natural world whilst the former resemble Hitler's bunker.
Nasser Mosque near the Ministry for Military Production – the Ministry produces a lot but almost none of it to do with the protection of the nation or their military duties – they manufacture retail motor cars.
Built during his lifetime with Nasser supervising the Mosque's completion it was funded by taking money from the taxpayer. I guess it could be uglier.
Tantawi, the sponsor and helpmate of Sisi also had a huge new mosque built for himself secretly in a guarded protected suburb inaccessible to the taxpayers who paid for it.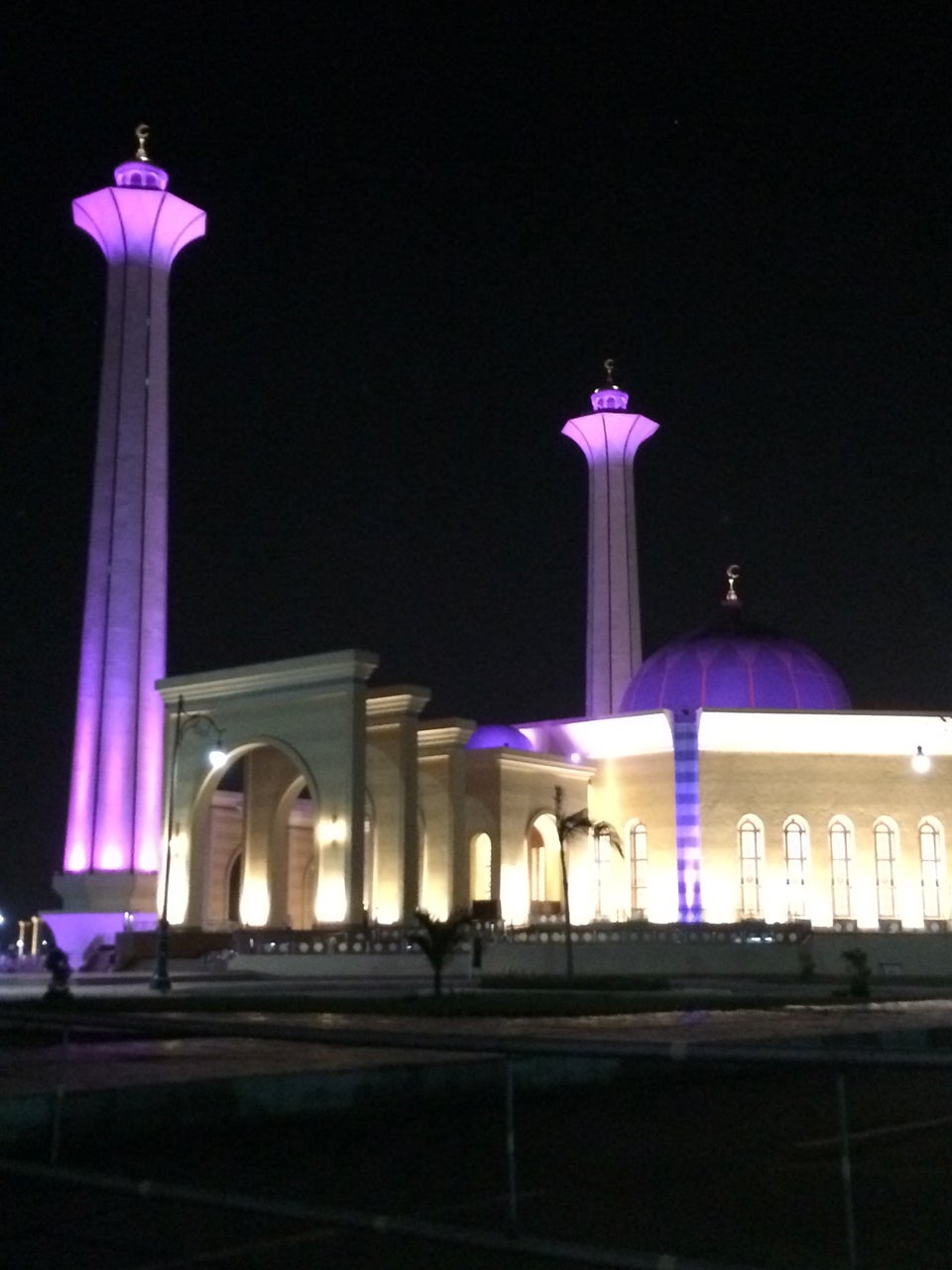 It's called the Masjed El-Mosheer Tantawy and built to permanently mark the ever victorious Marshall Tantawi – a person who never had a single military victory but was rather good with money. No one ever said he was a good man let alone a saintly man but that doesn't matter with Islam. It was opened by Sisi and T is buried there.
According to a US military leader who know him well he wasn't much interested in protecting the Motherland: 'his primary concern is the economic well-being of the military, not the performance of its nominal tasks and duties' The Routledge Handbook of Civil-military Relations p 59.
This Tantawi mosque has several levels of underground and cooled parking for important people, is in the 5th Settlement so its surrounded by tanks to keep the riff raf/taxpayers out. Here is the mosque 'fence' – the Vatican and St Paul's should adopt such a fence:
I don't think there is another mosque in the world with a fence like that not even the Dome of the Rock in Jerusalem that is surrounded by danger and threat. How much security or how many compounds do the beloved rulers need – obviously a lot. Its next to a sealed development which includes a walled Olympic Village of splendid sports and entertainment facilities, a military hotel or two, a huge military housing compound, a military shopping center full of taxpayer subsidized products, a possible military clinic or hospital that specializes in surgical weight reduction and a brand new Military owned, International Convention Center (in the middle of nowhere and which will drive the government one in Naser City bankrupt) and all paid for by the taxpayer and except from tax. I can understand they have skills in torture but not in free discussion/debate conventions where people are not taped.
One thing is clear – no expense has been spared for a poor country to celebrate the life and achievements of the 'greatest military leader in the history of the world'. The rest of Islam on the other hand is selective and exercises morality in the dedication of its mosques – but not Egypt. Maybe worse than anywhere in the world religion is owned by the state/Junta.
Nasser also built a city to himself started and supervised by him in his lifetime. Like all the new cities built by The New Urban Communities Authority it failed and wasted oceans of money. The failure, as with all others, was concealed, no one lost their job and the Authority continued its failed practices in dozens of other new planned cities.
What is interesting about the above two is that for a thousand years Mosques and associated teaching madrassas and libraries were multi purpose community facilities many with facilities for the poor. Near universally they were buildings of architectural genius not only in Iran, Southern Russia but also by that Christian soldier/architect/courtier – the greatest of them all Sinan (who has one small clunky mosque in Cairo north of down town a couple of hundred meters in land from the Nile, falling down and, to me, very untypical of his elegant style). These two are, in an age much safer than the past and with a million man police force and a million man army, closed ugly compounds.
A Melbourne mosque for the Turkish community that took 20 years to build and which risked Murcutt as architect who had designed no religious buildings and few buildings other than houses.
An external glass faced side wall with the towers at the top collecting light to reflect it in the interior through stained glass:
An upstairs prayer room with stained glass ceiling:
The roof top of 49 gold painted/gold leaf 'minarets' with glass sides arranged to collect light at various times of the day and direct it into the inside of the building:
Its entrance and surrounds avoid grandeur and arrogance.
The assistant architect, Elevi, is a Turkish born Australian at the peak of his profession. It was completed through community wide crowd funding with a total budget of about $US17 million
Info on the Melbourne Mosque.
https://www.smh.com.au/entertainment/ar ... q6s20.html
It uses the building for youth programs, particularly young boys, including sport to avoid what others elsewhere have had to endure.
At the very least it has set a high bar for future churches and mosques and has had a very positive effect for Muslims – it has attracted widespread admiration for their effort and good taste. It also sent a message to young and old architects that the best in the country should be doing this work. A lesson quickly learned as you can see from the next Mosque.
The Punchbowl (no joke) mosque in Sydney is following a similar visual style that commands respect for a religious group that is often portrayed as ignorant and common.
Another interior view:
The entrance is welcoming and with plants:
Its exterior is modern and understated and doesn't scream in your face with an aggressive announcement.
The Architect is a distinguished, middle aged, Greek-Italian Australian. It cost less than $US16 million and as with the other people drive miles to have a look.
The future is worse as the Imperial Honeyeater ruffles his bright feathers, puffs up and pushes out his chest.
This is the new Parliament in the new Imperial Capital whose mirror image at the rear doesn't make sense – maybe there is to be a Military House of the Parliament.
What is wrong with the old Parliament except its MP's. They abolished the Shura 8 years ago so there must be lost of spare space. More to the point why move to the walled/moated/land mined new capital when all you need is 5,000 troops and 100 tanks outside the old Parliament at all times. If worst comes you could always get some Sarin gas from the large 'reserves'.
For those interested in horrors the New Administrative Capital will, according to the contracting firms, have firmly segmented areas/enclaves which will mean that classes, function and income groups will live mostly/wholly apartheid like lives. Just what you should expect. The boredom/suicide rates should be interesting in a life where you meet only your identikit.