Sunday marked 115 years since Egypt printed its first banknotes, the Egyptian pound (LE), known back then as "Abou Gamaleen."
Egypt's Central Bank printed the first paper notes on 5 January, 1899 - 65 years after Khedive Abbas Helmy issued a decree to introduce a new Egyptian currency to replace the piaster, state news agency MENA reported.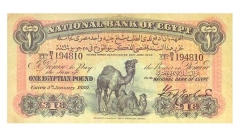 The Egyptian pound was valued at 7.43 gm of gold between 1885 and 1914.
The value of the LE remained tied to the pound sterling until 1962 where it began being valued based on the United States dollar (USD).
In 1962, the USD was worth LE0.43. After the 1973 Arab-Israeli war it declined to LE0.4.
During the rule of former president Anwar El-Sadat from 1971 to 1981, the Egyptian pound started to drastically lose its value, due to the implementation of 'infitah' or free market economic policies. By 1978 the USD was worth LE0.7.
Meanwhile, in 1989 the Egyptian pound went on a journey of devaluation, reaching the lowest rate in 2003 hitting LE7 against the dollar.
According to Central Bank of Egypt (CBE), the USD is now worth an average of LE6.96.