July opinion poll surveying 2,214 adults across Egypt shows public disapproval for protests backing toppled Islamist leader.
Egyptians are by and large unsympathetic to protests calling for the reinstatement of Egypt's toppled Islamist president Mohamed Morsi.
71 percent of Egyptians voiced their disapproval of the Brotherhood-led protests which have been taking place for three weeks, according to a poll conducted by the Egyptian Centre for Public Opinion Research (Baseera).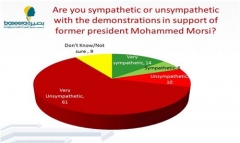 Baseera's July opinion poll found that 20 percent of those polled were in support of the pro-Morsi demonstrations, while 9 percent remained uncertain about how to view the matter.
The report stated that residents of urban governorates seem less sympathetic to the pro-Morsi protests than those of rural areas. Urban residents polled at 17 percent approval, 77 percent disapproval, whereas the numbers were 21 and 67 percent, respectively, for rural residents.
Morsi's Islamist backers have maintained a sit-in in north Cairo since 28 June. They have been staging protests in Cairo and other provincial towns demanding his reinstatement ever since Morsi's 3 July ouster by the army amid mass anti-Brotherhood demonstrations.
The independent Cairo-based organisation polled 2,214 adults from across Egypt's 27 governorates via telephone on 20 and 21 July. The poll's margin of error is less than 3 percent.
Based on the report's findings, male respondents are more disapproving of the protests (78 percent) than female ones (65 percent).
15 percent of women remained uncertain, versus 3 percent of men.
The report revealed that age and education levels affect reactions to the pro-Morsi protests. According to the poll, sympathy declines with age, recording at 24 percent sympathetic amongst those aged 18-19 compared to 14 percent amongst those 50 and up.
Sympathy for pro-Morsi protests was higher among university graduates (26 percent) than those with a mid-level education (18 percent).
Source:
http://english.ahram.org.eg/News/77085.aspx