The English Are Civilized.
The English quite like modern, pre WW2, Egyptian paintings, so do billionaires in the Gulf who have driven their price up. Egypt doesn't like much other than mythologized views of its past or a peasant idyll.
The Tate, one of the great modern collections in the world, has them.
Here is a surrealist 'The Beloved of the Sayyidah' by Abdel Hadi el-Gazzar (c.1950) which has a modern ring about it.
Another surrealist painting Mayo, Coups de Bâtons 1937. Image courtesy: Private collection, Milan on display at the Tate.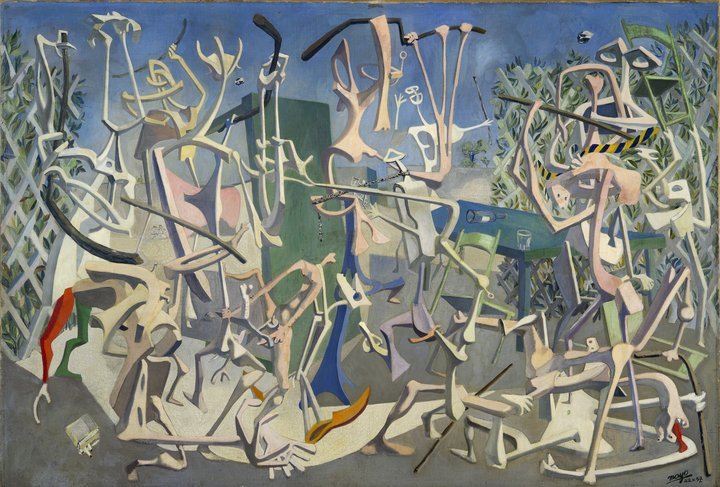 and another Ramses Younan, Untitled 1939. Image Collection of Sheikh Hassan. M. A. Al Thani, Qatar and on tour in England with scores of his Egyptian paintings.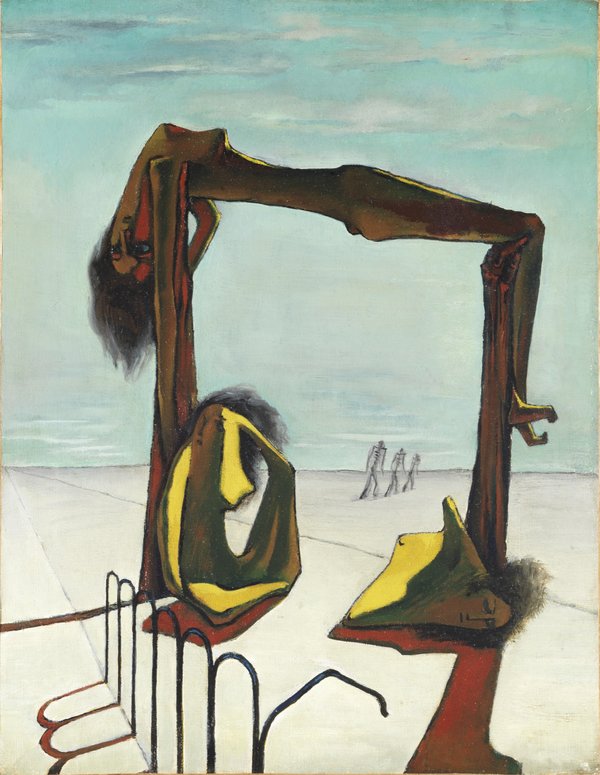 Not to everyone's taste but comprehensible if you assume that half were intended to shock and half had a leftist political agenda/propaganda.
The Qatari royal family, that Egypt hates for its alleged fundamentalism and support of terrorism, is a major collector of modern western art ($US2.5 billion spent over 8 years) and Egyptian art.
https://www.economist.com/books-and-art ... ture-queen
and
https://www.forbes.com/sites/abigailesm ... d88cc25a7f
Another 'fundamentalist' Qatari Egyptian painting bought for a shade less than $US1 million Inji Efflatoun, Untitled, 1942 (a woman secretly jailed by Nasser)
Egypt as the center of Arab Culture/Middle East Culture/World Civilization knows better than Qatar and adorns its walls with 'beautiful' paintings of Egyptian peasants and waterwheels.
Rather its true that the best of the past is the opposite of these sentimental peasants.
These modern Egyptian painters were part of a broader movement and published a manifesto Long Live Degenerate Art in December 1938, in opposition to Hitler's attack on modern art (that Hitler called degenerate, some of it was Jewish and some 'perverted' but most of it entirely 'normal' – now it's the peak of culture). The group aligned themselves with those European artists whose work had been termed 'degenerate' and responded to the rise of fascism. Between 1938 and 1946 they worked within both the context of the Second World War and colonial Egypt to inspire a generation of young artists, intellectuals and political activists, and aimed to make art that could effect social/political change.
https://www.artfund.org/whats-on/exhibi ... et-liberte
Nowadays opposition to sad little Hitlers/Stalins/Mussolinis in Egypt will get you jail.
https://www.theatlantic.com/internation ... ip/556325/
and
https://www.haaretz.com/middle-east-new ... -1.5467105
Even a TV interview of a gay man will get the TV presenter 1 year hard labor.
https://www.bbc.com/news/world-middle-east-46946612
. And the US funds this together with the UN, UNESCO, FAO, IMF and World Bank which the West/we pay for. Eg portraying Sisi with Mickey Mouse ears 3 years jail for poor Amr Mohan.
Experts state that local Egyptian Surrealism had an impact on European Surrealism – the last time anything in Egypt influenced the broader world other that trouble or an insistent begging bowl. This needs further academic research.
Surrealism is not to everyone's taste but Egypt in the 30's, 40's and later was connected with every world movement and made a contribution. Imagine if there was even an Egyptian Academy of Art in Rome, like the French Academy near the Borghese to train the best Egyptian artists. There is but a former director of the Academy and then a later Culture Minister for 2 decades, Hosni, (and close friend of the Divine Suzanne) was charged and convicted with corruption in 2012. Expert commentators state that his aim, in his own, words, was to bring all the intellectuals and artists into the government's 'barn' and to isolate, or worse, those who did not collaborate. 'Egypt Beyomd Tahir Square' Momani, page 64. The approach owes a lot to Hitler and Stalin – except they killed a lot more of their own rebels and those people with a mind. Clearly art was part of those Junta propaganda programs.
Of course there is a dark side and its the same as the present - corrupt administrators, ego and prestige druven ideas and callous disregard for the people with talent or doing the work. So even a good idea like training in Rome was twisted into the standard post 1952 extortion, prestige and theft – with little practical outcomes for mere artists.
In 2009 Hosni tried to get the UNESCO job but was turfed because he publically advocated the burning of Jewish books in the Alex Library (which Egypt got for free and whose running is largely paid for by others – including rich Jews but no rich Egyptians). He was a close friend and supporter of Hawass – guess they shared a lot of respect for one another – maybe one day they will share a jail cell: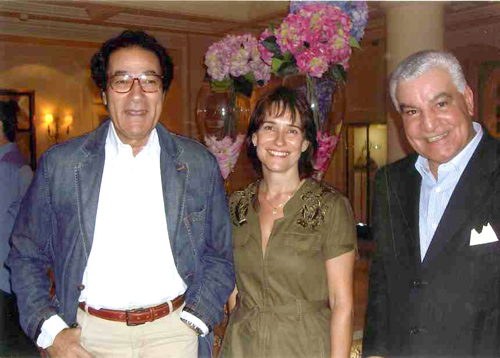 Parasites who have contributed little more than hot wind - and thousands of brain dead western disciples.
His Ministry was notorious for corruption and mismanagement so its fair to assume Egyptian Management 101 – rip off the taxpayer and look after yourself. His long-term Press Secretary was convicted of corruption and jailed for 5 years even in 2001. Management 107.777 - convict the subordinates to appease the masses whilst not touching the 'gods'.
Under Sisi Hosni was miraculously acquitted, along with scores of identical others – so many miracles, all to the benefit of self-serving crooks and all linked to a specific period of time. God works in amazing ways.
I think its fair to say he is disgusting, which tells you a lot about the people he appointed to 'run' culture in Egypt over a 20 year period. He lost the UNESCO election to the corrupt Bulgarian who has only recently 'evacuated' the job in ignominy but without a criminal conviction – pity she's not in jail. God knows what his qualifications were for Minister for 20 years. Prior to responsibility for 100,000 staff he had only ever managed 5 and the political demands of being a minister would have been a shock because he was just a professional artist who had held no political or elected office and had never advised on policy or strategy – just what color was best for the canvas.
In the earlier period prior to Hosni parts of Egypt saw themselves connected with the wider world and were keep to compete with modernity. Those times are long gone and most of these people were tipped out in the 50's. Under Hosni the local painting style is 80-100 years out of date, unoriginal and with dreadful technical skills but the state awards go to these as if there is no tomorrow. I guess there is no tomorrow for those who hate the present.
A book I'm reading on Surrealism in Egypt by Bardaouil (published 2016 and long winded) makes a strong case that the rich and middle Italians were very active in cultural/art circles and one, Grassi a tobacco millionaire (yes tobacco used to be a big industry until nationalized and managed by bureaucrats and Generals – they succeeded and this industry is largely dead except tor dealership rights, domestic manufacture (now the lowest quality imaginable) but little export) had assembled a great private 19th century Art collections – van Gogh, Manet and Cezanne and a superb collection of Asian art as well as Egyptian art. These artists were not in fashion at this time so his choices showed great insight into what would become the greatest art in the world.
The Grassi's got out before they were kicked out – a wise lesson for contemporaries.
The Egyptian painters in this period were absolutely multicultural and the wealthy patrons bought the best no matter who painted it. Scholarships were given by France to promising young ethnic Egyptians few of whom ever came back. World class performers and artists like Cocteau visited but alas the middle and upper class that once supported such openness and taste exists no more.
The the world standard private Grassi collection violates Egypt Rule 103 – nothing from outside the fatherland, and was given to the Italian people and its quality would have overwhelmed the modern art garbage that is in the national Egyptian modern collection in its hideous building on the south side of Zamalek near the Opera house – no air conditioning so the paintings will be no less corrupted than the artistic leaders of art in Egypt like Hosni.
Claims by Egypt to own great modern paintings are rot. The alleged van Gogh, twice stolen/lost in an adjoining collection, never impressed me, I'm near certain it's a fake – another for Hosni. At best its an ordinary impressionist painting in a style and using color van Gogh never otherwise did. Its not included in his catalogue raisonné, the world authority on what is guaranteed to be by van Gogh, so it exists as a van Gogh only in the deluded minds of al Ahram propaganda dribblers and Military Intelligence press releases. If it were authentic it would be worth Stg 20-50 million which raises the question of who to punish for its loss/theft/poor maintenance. Maybe Hosni, but only after a police inspection of his home for the possible new 'location' of this lost object. (its probable, based on western police reports, that art and antique thefts are 'led' from the top in Egypt).
There is no program to collect western art painted in Egypt like the great German modernist Paul Klee and many others rather it's the standard obsessive nationalism 101 – only Egyptian is good. Egypt affects western movements nowadays – western touristic bowel movements.
Paul Klee – Egyptian Night 1915.
His Legend of the Nile from 1937.
Notice the use of images from stick figures found on the walls of caves decorated by our ancient ancestors.
But Klee was a degenerate – in terms defined by the Fuhrer (a great hero of Sadats and the former employer of hundreds of German escapees who built modern Egypt under Nasser) so Egypt wouldn't be interested in these Stg3-5 million paintings that are featured in books around the world. However given their money, sorry, artistic value and Egyptian subject matter Hawass could squawk about their 'theft' and seize these objects from gallery walls and carry them back 'home' – in front of 20 National Geographic cameras. A side trip to Sotheby's might be better for a cash transaction transferred to a Cyprus A/c.
Many of the Egyptian Paintings from this period are in overseas collections, particularly collections in the Gulf and it would be normal for them to travel to Egypt for special exhibition. Why they do not I leave you to judge but poor exhibition conditions and cretinistic, careless local curators might have something to do with it as well as local Egyptian attitudes that dismiss such ideas as beneath them. Given everywhere else in the world has travelling exhibitions can anyone think of a single one on any subject matter to Egypt. Very odd.
Can anyone think of a single donation of a work of art or any money to the poor from any of the Cairo rich. Their sense of community is so absent only personal avarice drives them.
A diversion. Correct me if I'm wrong but wouldn't Brexit dogma require the purging of all art galleries of all non-English influences. Surely that includes the above – we will see if after the purge there is anything left to look at. Prince Charles could fill it with his superb paintings from the world's greatest artist – himself, and prove Egypt is not the only place on earth that wants to stop the present by living in the past. He only paints Grade 1 aristocratic houses and dales uncluttered by humans, buildings or anything after the 18th century.
In case you are holding out for the positives surely Brexiteers would get rid of Bacon, a pervert Irishman, Freud, a Jew and Hockney, a northern pervert who deserted his country 50 years ago and has only come back to die. The da Vinci in the National is unnatural in all respects and should be ripped and shredded. The same for Michelangelo. Epstein was a foreign Jew so his sculptures should be melted into authentic English steel cricket stumps. Holbein, Van Dyck and many others should be burned to preserve perfect England along with hundreds of 'Catholic and un-Anglican' paintings. Cleaning them out will leave just blank walls for English beauty – whatever that is. The Elgin Marbles tossed out (via Christie's) to leave England its untouched natural self. The end result will be a very Egyptian situation.