Women-only cafes have recently become quite popular in Egypt, but Sameh's was the first to open in Upper Egypt's conservative Luxor province. The Pink Cafe offers a venue for Luxor women to go out and have fun without risking criticism from their conservative community.
The cafe caters to entirely female customers. The entrance is marked with "Girls Only" signs and the all-female staff wears pink uniforms in the all-pink decor. Smoking is strictly forbidden.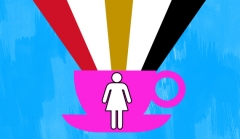 Sameh told Al-Monitor, "I thought about opening the cafe because it is difficult to find a decent place to hang out at in Luxor or spend my spare time without being harassed. My husband is against the idea of me going to cafes where men are allowed, so this is how I started thinking about a women-only cafe."
Sameh said, "I conducted a quick survey on Facebook, asking women [friends] how they felt about such a cafe, and many supported my idea and encouraged me. They even gave me suggestions such as creating a children's entertainment corner, suggested sound tracks for background music and warned against allowing smoking, all of which I took into consideration and applied."
Not everyone was encouraging her plan, however. Some of her neighbors told her that the cafe was a waste of time and men would try to get in. She was also told that she would have trouble getting a permit.
However, when she opened in early May, an unexpected number of girls and women came pouring in. "The cafe received broad acclaim and we try to maintain a good reputation in Luxor. We provide free wifi so many university students and schoolgirls visit the cafe. They feel comfortable here. They feel safe because they know no one will be judging or criticizing them," she said.
During the holy month of Ramadan, the cafe serves iftar meals and beverages after the daily fast is over. "Ramadan is a great opportunity to expand social circles, especially in the only women-only cafe in Upper Egypt, where it is completely safe for women to stay late," Sameh noted.
She said that after opening to such immediate success, she received many requests from labor unions about receiving discounts for union members in exchange for promoting the cafe. Sameh is thinking about expanding the project to other provinces in Upper Egypt, such as Qena and Aswan, as women who live there have been expressing interest and contacting her over social media.
Sameh said that she is not running the business for the money. "If I were only trying to make money out of this, the first thing I would have done is allow smoking in the cafe. Instead, I figured it would be better if I provide a social service that brings together women and girls without mixing with men," she said, adding that Upper Egypt still suffers from a lack of entertainment outlets such as shopping malls.
Women-only cafes were first introduced in Cairo with the Tarter Cafe, which opened in Heliopolis in 2007, followed by the Sabaya Cafe in 2009. Other cafes started opening elsewhere, such as Alexandria's Banat w Bass Cafe. The Pink Cafe is the first of its kind in Upper Egypt.
But reactions to women-only cafes are divided, with advocates seeing them as an opportunity for socialization and critics claiming they're marginalization and isolation in disguise.
Reda al-Danbouqi, the director of the Women's Center for Guidance and Legal Awareness, told Al-Monitor, "Women-only cafes allow women to go out of their houses to have fun without getting harassed, which often happens in cafes and other public places frequented by men. They also provide employment opportunities for women, which may help them achieve economic independence in close-minded societies."
Danbouqi said the cafe is proof that Upper Egypt is changing, noting, "Several civil society organizations have opened in Upper Egypt and many women have been trained there. Some moved to other Egyptian provinces while others moved abroad. Society in Upper Egypt is now ready for initiatives that empower women and with time, society will accept other similar ideas."
Basma al-Khatib, the director of women's issues at the For Egypt Association in Qena, disagrees. She told Al-Monitor, "There are many reasons for women's marginalization in Upper Egypt. This is not about having cafes for women or other places where they can have fun. We have special clubs in Qena such as the Girls' Club, but the turnout is very weak."
She added, "Other factors that marginalize women include the poor economic situation of women, their lack of education and the patriarchal society in general. Therefore, any women-only project contributes to further isolating women in a society that believes women should remain hidden. Allocating such places for women alone is like allocating places for people with special needs.
"The world kept isolating people with special needs, thinking that it was protecting them. No one realized that isolating them was depriving them of their freedom," Khatib concluded.
Source:
http://www.al-monitor.com/pulse/origina ... egypt.html