Tarek Saad El Din, governor of Luxor, said that there are several projects will be executed in the near future in Luxor including "Green City" project.
This project include 3 solar power stations, each to produce 80 K. Watt. One station at Luxor's public library, the second will be at the conference centre and the third is at the governorate's headquarters.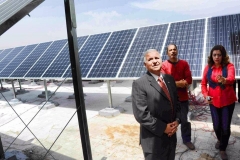 The governor announced that the first solar power electricity station is already working and providing the governorate building with 80 k.Watt every 10 hours.
The solar power panels installed on the top on the governorate building cost 3 million pounds and provide electricity to all needs of the building to guarantee no power cuts and an alternative to diesel-run electricity stations.
Also the light posts on the corniche road are run by solar panels.
Source: