Egypt hosts films from 41 countries at Luxor African Film Fest lineup.
Due to an unprecedented number of submissions to its third edition running from 18-24 March, and heeding last year's jury recommendation, the reviewing committee of the Luxor African Film Festival (LAFF) has decided to divide participating films into four separate competitions: feature narratives, short narratives, feature documentaries and short documentaries.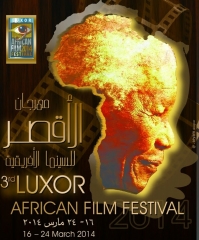 This year's lineup includes 55 films from 41 African countries: 14 will be featuring in the feature narrative competition, 10 in the feature documentary competition, 17 in the short narrative competition and 14 in the short documentary competition. The detailed programme will soon be announced.
Additionally, 12 films from nine different non-African countries will participate in the Freedom Films competition, the jury of which will be headed by renowned Egyptian writer Youssef El-Qaeed. Other members of the jury include critics Martin Botha (South Africa), Fathi Kharrat (Tunisia) and Ahmed Fayek (Egypt), as well as Egyptian actress Salwa Mohamed Ali. The Freedom Films awards are named after journalist El-Husseiny Abou Deif, who lost his life covering the Ittihadiya presidential palace clashes in December 2012.
Dedicated to the memory of late South African leader Nelson Mandela, the third edition of LAFF will also pay tribute to acclaimed Egyptian actor Mahmoud Abdel-Aziz and prominent director Mahamat Saleh Haroun from Chad.
The Luxor African Film Festival is organised by Independent Shabab Foundation, with the support of the ministries of culture, tourism, youth and foreign affairs, and in collaboration with the Governorate of Luxor and the Egyptian Film Syndicate. It was launched in 2012 as an attempt to strengthen the presence of African cinema in Egypt, as well as decentralise Egypt's cultural agenda by planning events in historically rich venues beyond the borders of Cairo and Alexandria.
Source:
http://english.ahram.org.eg/News/93481.aspx
LAFF Website:
http://www.luxorafricanfilmfestival.com/