Against a backdrop of Egyptian home and street food repackaged into trendy Zamalek restaurants, Cairo Kitchen launched a new cook book, filled with Egyptian recipes from author Suzanne Zeidy.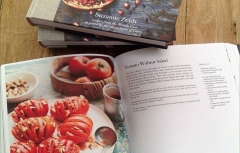 "When we opened our first Cairo Kitchen store, we were inspired not only by the recipes that got handed down from generation to generation but also by the unique street food culture that Egypt has with all its colourful street carts," she said.
"We felt that really good Egyptian food was not accessible to the general public outside the home so we wanted to create somewhere for people to be able to eat wholesome traditional food quite easily. Similarly, we found that a beautiful and visual book that captured much of Egypt's food culture and documented some of the traditional recipes was lacking. We wanted to highlight the wonderful ingredients we have in Egypt and show case some of the dishes that we, as Egyptians, are proud of."
The launch was celebrated by an event in Zamalek's La Bodega, featuring samples from the book, live music and cocktails with an "Egyptian flavour"; the pomegranate cosmopolitan was especially popular among guests.
The food featured mini-plates of koshary, kofta with yoghurt, fish and numerous other items from the book, all of which were delicious and in abundance. The only problem was that the waiters did not know the recipes and could not give information beyond their best guess.
Zeidy says the book was important for her because Egypt is "underrepresented in the culinary world and that it was a natural next step."
"We had established the Cairo Kitchen restaurants and saw that people appreciated the food and the accessibility of it. I am personally very interested in ingredients that are not so mainstream like 'purslane' (rigla) and 'cracked wheat' (freekeh). Even though these ingredients have been part of the Egyptian food heritage for centuries, they are being overlooked in modern day cuisine. With the book, we were able to shed light on the rich food heritage that Egypt has to offer," she said.
"I do not feel that Egypt has successfully exported its food like other countries. Even within itself, I feel that the best food is only found in homes. I believe there is still a lot to be done when it comes to sharing our cuisine internationally. Cairo Kitchen plans to open in other countries, but there are still no concrete plans," she added.
Zeidy says that, for her, the book is not a comprehensive authority on all Egyptian food but rather a snap shot of Egyptian cuisine.
"The bulk of the recipes in the book are recipes that I developed with Chef Saeed Hassanein, our Executive Chef for the Cairo Kitchen restaurants. We tried to put our own twist on many traditional recipes like adding beetroot to a tehina dip or aubergines inside Kobeiba. The other recipes are dishes that we do not serve in Cairo Kitchen but feel that they are important to Egyptian cuisine."
The launch here in Cairo seems to be part of bigger plans for Zeidy and the Cairo Kitchen team. The beautifully-designed book will be published internationally in the summer of 2014. "We will use that as an opportunity to shed light on Egypt's rich food culture," Zeidy said. "The book is our first step to telling our story and highlighting our love of food."
Source:
http://www.dailynewsegypt.com/2013/11/2 ... cook-book/