Egypt Gets the Boot.
Now the purges begin and the military are to take over the management of soccer – maybe even including coaching.
https://af.reuters.com/article/sportsNe ... 31FE-OZASP
A former coach said: "whether a military official should preside over the football federation, Gafaar said; "Of course", adding that the country's soccer administration needed "an iron fist" to be restructured." Very Egyptian – skill, a brain, planning and co-ordination fail so you need an iron fist. Bring that on for those not doing well at Wimbledon. A sign of sick Egyptian thinking.
Everything else is failing – particularly the economy, the war-criminal friend in Sudan, the war criminal friend in Libya and the lost war in Yemen so better focus on this failure because it doesn't include the Junta.
The military takeover is little different from the reality where a number of the national teams – possibly 5 – are Army owned and managed. The military clubs don't do particularly well although they are awash with taxpayers money and this illustrates that iron fists don't beat a brain and skill.
The Army have always run absolutely everything and soccer is no different. To say they need more power ignores the power they already have and how they have failed. This poor performance follows their fiasco in the World Cup where they never won a game. My guess is that Egyptian soccer administration is just like their Olympic administration and in the latter case Suzanne Mubarak's Major General brother, Mounir Thabet, used to run it with no relevant skills, experience or interest. (this creature also spent a decade on the peak Olympic governing body but could barely walk and talk). Its therefore probable that the administration of soccer is full of retired generals - all of whom failed.
The whole African competition was run like a police state with ultra's excluded, lots of plain clothes police, eviction of anyone who cried out the name of a now excluded player and essentially empty stadia in games that did not include Egypt. The last strongly suggests that all the rot about soccer tourists was just that.
https://uk.reuters.com/article/uk-socce ... KKCN1U20JR
Here is Nigeria and Cameroon notice that all blue seats are vacant:
South Africa and Morocco: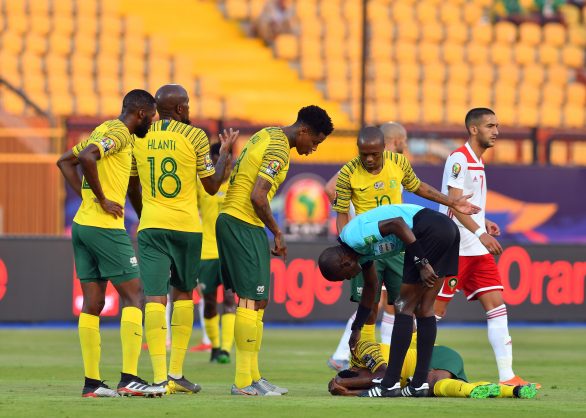 Zimbabwe and Tanzania has an audience of zero (notice the artificial surface is wrinkled and disconnected from its concrete base – shocking management and organization):
Here is an Egyptian game but note the gross stadium design – no coverage of the crowd against the sun – and the mad combined athletics and soccer design. Most stadiums in Egypt, possibly all, are identical. Its not as if athletics/track and field is other than a failed stunt for Egypt. The pitch isn't in the middle of the track and field mess.
Maybe Egyptians are so insular and partisan they aren't interested in anything but their own team.
An aside. As far as I can determine all the playing surfaces were synthetic and this is harder and causes more injuries than grass. It is also against any international standards. Putting down real turf/layered grass and changing it every week or so is easy but obviously beyond Egypt or their concrete foundations covered with a film of plastic. Injury statistics will be interesting.Most first rate players will refuse to play on these dangerous cheap, penny pinching surfaces. In Australia even suburban amateur soccer teams play on grass and no one wants to risk injury and early retirement from these concrete lined coffins.
Maybe they could try a soccer system which is merit based but its well known by Egyptian experts on this site that Christians don't get a chance in soccer.
https://uk.reuters.com/article/uk-socce ... KKCN1TL2DR
and
https://www.dw.com/en/fighting-discrimi ... v-44902192
and
https://www.middleeasteye.net/features/ ... tion-egypt
and
https://www.theatlantic.com/internation ... is/511007/
There is no news in this and it also applied to the league teams in Egypt. Keep the Christians out no matter how good they are.
It's intentional and systematic and the discrimination against Christians also includes their exclusion from all elite training facilities.
https://tcf.org/content/report/christia ... ?session=1
That the international regulators of soccer ignore this tells you no more than we already know about their corrupt and lazy ways.
Result – Egypt fails badly, the Christians are kept out, the tourists don't turn up, the coach and many others all fired, money lost hand over fist but the Army ends up on top out of a mess of its own creation.