The BBC recently interviewed a woman about the torture of a relative.
She has now been arrested and detained for 15 days for, who knows, defaming the fatherland, undermining the infallible integrity of Egypt, attacking the invincible army or maybe they just used the standard offence – she is a terrorist in a fictional form.
How can you lock up a person for an alleged offence. In a civilized country the accused are detained for interview, a charge may then be laid and then you appear in a court in relation to bail when preliminary evidence is produced. But not in Egypt.
Clearly where there is violence, murder or threat (not alleged in this case) a more custodial approach is adopted.
Is Egypt barbaric? In relation to legal/police matters the jury is out - but there are no juries in Egypt because the notion of ordinary citizens participating in justice is absolutely, completely and finally rejected. Not really the approach of a non-barbaric country.
Here is her photograph – any fool can see she is a major threat to Heroic Egypt and to the security of 90 million: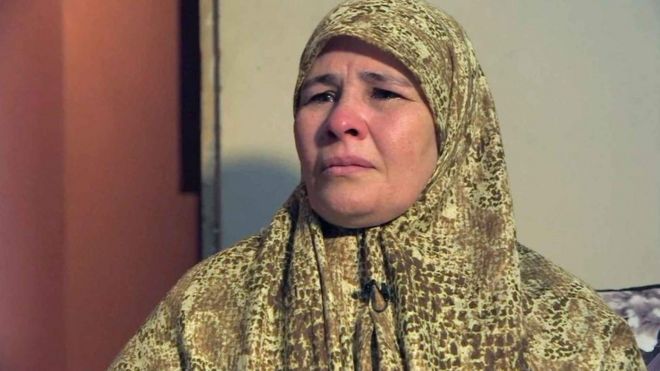 Who cares and who knows – reality and facts have been long abandoned and the army and police should just round up 'people we don't like' because they know these things, are perfect and work only in the interests of all Egyptians and not just those making all the money out of 'current arrangements'.
There should be thousands of prisons to lock up the tens of millions of trouble makers and degenerates – Egypt will never be safe until half the country are locked up. The bombing terrorists are a minor problem superbly dealt with by the invincible Army.
The million man police spends all its time tracking down old dangerous women who talk to degenerate western media creatures. No Egyptian should ever speak to a foreigner without severe penalty. The 100,000 Tourist Police should be issued revolvers to enforce this sensible policy of unremitting positive communication to all visitors that all is perfect in Egypt - particularly the political and military leadership. They are infallible.
In a moral world all travel companies would stop travel to certain countries – but that assumes their customers have moral standards and a casual visit to the coast tells you they don't . They don't even have basic manners or self control. Some lack hygiene. It also assumes the managers/owners of travel companies have morals - but as everyone knows they don't and are as bad as the sinkholes they send their customers to. But they give tax deductible money to homeless people - but only accompanied by the Prince of Wales and a photographer for Hello Magazine.
Getting people on this forum to respond to this idea is unlikely but many get angry about eating meat from a place that treats animals badly. I think we have odd morals.
(it's a sad thing about journalism that your sources pay a price whilst you are safe in London – in a civilized country where the police don't run wild).
When people say a place is 'spinning out of control' they usually mean chaos. Could Egypt spin out of a through a gross excess of control?